Exterior Roofing and Home Insulation in Woodbury, MN
Dan and Deb, homeowners in Woodbury, MN said, "It was time to take preventative measures and get a new roof done"! Their original roof was showing its age (19 years). After talking with Dan and Deb, we chose teak colored, Owens Corning 30 year shingles.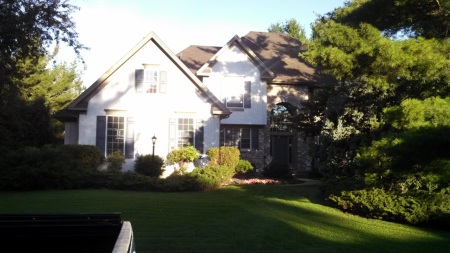 The owners' love their new roof, "It looks beautiful!" and it only took two days to install with a crew of five.
A month later, we were called back to Woodbury and Dan and Deb's home to install Owens Corning blown in insulation in the attic. Being the home was built around 1994, the attic was under insulated at R-30. We brought the house up to R-49 (MN Code for New Construction) in a matter of a few hours.
Thank you to Dan and Deb for choosing 1st Team Exteriors for your roofing and home insulation projects!
If you have questions about your houses insulation, please contact us today. When your insulation reaches the state code for home insulation you may qualify for Centerpoint Energy's Air Sealing and Insulation or anXcel Energy Rebate of up to $300! We can come out to your home and walk you through our attic insulation inspection and installation process.